How to get a bridal-ready look …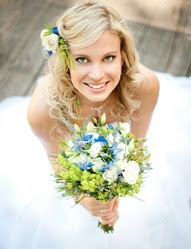 Gorgeous, glowing skin doesn't happen overnight (for most of us)! The best way to ensure that you have bridal-ready skin is to plan for it.
Note that our guide covers many skin concerns, so some may apply to you and some may not.
START ASAP!

Ideally most brides can begin proper care and treatment one year in advance. If this is not the case, start as soon as possible by scheduling a consultation with one of our skin care clinicians who will help you plan your course of action and get you on an effective home care regimen.
BRIGHTEN YOUR COMPLEXION
Professional facials tremendously help restore life to your skin. Facials slough off dead skin cells, clear blackheads and pores, and improve the skin's circulation. Your clinician can also advise you on treatment for additional skin concerns (for example, acne or hyperpigmentation).
Recommendation: Book a facial every 4-6 weeks. Start as soon as you can.
ERASE SKIN DAMAGE

If you have skin discoloration, broken capillaries, freckles, large pores or other irregularities, a series of FotoFacials or Laser Facials can erase skin damage and promote healthy-looking, smooth skin.
Recommendation: Series of 5-6 treatments at 3-4 week intervals. Start at least 6 months prior to wedding.
IMPROVE SKIN'S CLARITY AND TEXTURE

Facial mask peels are one of the quickest ways to improve the skin's texture while diminishing fine lines and improving clarity. You may do one or a series for maximum results.
Recommendation: Series of 6, every 2 weeks. Make sure your last peel is at least 4 weeks before your wedding day.
For those who want a more youthful look:
RELAX YOUR WRINKLES

Botox or Dysport will temporarily relax wrinkles and lines, giving your face a more youthful appearance. Our nurses will make sure it is done in a way to maintain your natural expression and features.
Recommendation: 2 months prior to the wedding. A Botox treatment typically lasts 3-4 months.
FILL IN FINE LINES, SCARS, AND WRINKLES

Dermal fillers will instantaneously fill in crevices formed by wrinkles, scars, and fine lines. They also can be used to replace lost volume in the face and hands. Filler can last 6 to 12+ months.
Recommendation: 3 months prior to wedding.
ADD OOMPH TO YOUR LOOK

Dermal fillers can also be used to accentuate cheek bones, increase the fullness of lips, smooth a jawline and more. Our goal is to enhance your natural features so you will never look over done.
Recommendation: 3 months prior to wedding.
Creating good skin care habits will ensure that you look your bridal best on your special day and beyond.